Floor Stripping & Waxing
Metropolitan Building Maintenance Ltd. can make your floors look like new by:
1.  Stripping off of old wax (floor finish)
2.  Scraping corners and edges.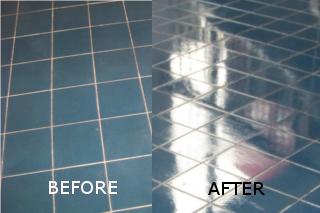 3.  Sealing & Waxing of:
•  Vinyl Composite Tile (VCT)
•  Linoleum/Marmoleum
•  Sheet Vinyl
•  Marble
•  And many others
Why is it important to Wax your floors? Many people do not realize that when a layer of wax is put down on your floor, it actually creates a layer of physical barrier between the floor and anything it will come into contact with. This means protection! By having a regular maintenance of your floors, washing to remove surface dirt (protecting the wax itself), waxing to increase protection over time, the lifetime of your floors can be extended much further.
Weigh the costs of having to replace your flooring after only 5 years (not to mention the costs of having your business interrupted during the process of replacing the flooring) and the cost of the maintenance required to extend the life of your floors up past 10 years. Overtime the appearance of your floors will diminish, but this is only the wax itself. Here we come in and do a strip job, which removes all the layers of wax, which reveals a perfectly original floor underneath. When we lay down the wax again, it looks as if we've gone back in time to when the floors were first laid down. What can be better than this?
Our Janitors use a fully Green floor stripping process, using a Green Speed Stripper we will remove the old wax, and we will replace it with 2 new layers of our Green Floor Finish. Then we can continue to provide an impressive floor maintenance system, including burnishing that will not only make your floors look amazing, but will also reduce source pollution and contribute to a cleaner and healthier environment. Onsite during the floor cleaning service our Janitors use a floor machine with a splash guard so that we do not leave splashes along your baseboards. After Metropolitan Strips and Waxes your floors, they will look brand new.
GET A QUOTE